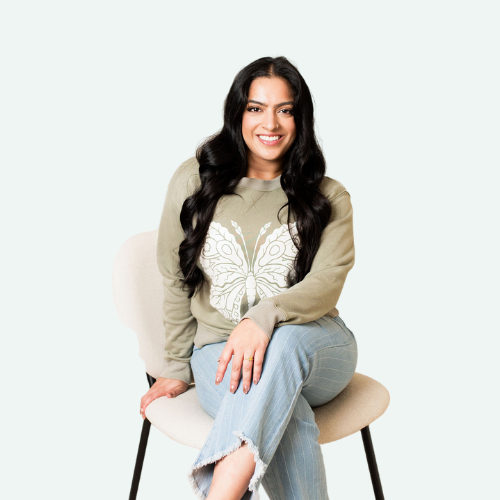 Registered Dietitian (College of Dietitians of Ontario # 15961)

Accredited Dietetic Internship at Hamilton Health Sciences- Brescia University

Bachelor of Sciences in Food and Human Nutritional Sciences – University of Manitoba

Bachelor of Science focus in Biology – University of Manitoba
Diabetes Management (Type 1 & 2)

Cardiovascular Health

Weight Inclusivity

Eating Disorders/Disordered Eating

Diverse Food Choices

Plant-Based Nutrition

Intuitive Eating & Mindful Eating Principals

Geriatric Care & Aging Populations

Gastrointestinal Health (IBS, IBD, bloating etc.)
Intuitive Eating Focused Registered Dietitian
Languages Spoken: Hindi, English
Anika Dhalla is a Nutrition Holistic Registered Dietitian with a passion for exploring cultural cuisines and promoting intuitive eating.
Fluent in English and Hindi, Anika takes a holistic approach to nutrition, working with individuals who have chronic illnesses such as Diabetes, IBS, GERD, and more, as well as those with eating disorders or disordered eating patterns.
Rather than prescribing diets or restrictions, Anika's approach is individualized and supportive, helping clients create sustainable habits grounded in intuitive eating.
Follow Anika on Instagram for health tips and insights on holistic nutrition
Book a free discovery call today to explore how he can help you achieve your health-related goalsI
Although you may be seeing Anika for your healthcare needs, the Nourishing Balance takes a holistic approach to ensure your mental, physicial, and emotional health get the attention they deserve. Get to know some of our other practitioners.